August's One Monthly Goal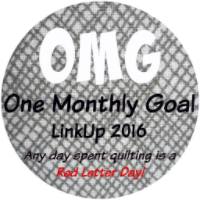 July was all about the Pulse quilt charity drive but now it's time to buckle down and get crackin' on the cathedral window bed runner that's to be a wedding gift for my Dad and StepMom. I have all the colored fabrics cut out and most of the background fabric as well. This month I want to finish cutting out the additional background yardage that I purchased and get everything laid out and sewn together.
Here is what I have up on my design wall so far.
I still need to add 10 more columns since my design wall isn't large enough. The colors on this image are also not accurate probably due to the window that is just to the left. The squares that read as yellow are actually a celery green.
Now it's time to start laying the background triangles on top of the squares in the proper direction and sew them all together.